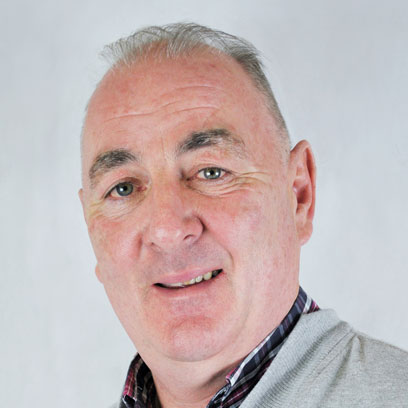 R Victor Morton
About Victor:
Works as Consultant CBT Psychotherapist  at First Psychology Centre, Aberdeen.
Languages spoken:

R Victor Morton is an experienced consultant CBT psychotherapist who works with adults (16+), couples and families at First Psychology Aberdeen. He is accredited with the British Association for Behavioural and Cognitive Psychotherapies (BABCP).
Victor has over 30 years' experience delivering evidence based psychological interventions. He works with clients with a wide range of issues and problems including: anxiety disorders (phobias, generalised anxiety disorder, obsessive compulsive disorder (OCD), social anxiety, trauma/PTSD, panic and health anxiety); depression/low mood/dysthymia; relationship issues; life transitions; self-harm; low self-esteem; physical/sexual abuse; bereavement; and insomnia.
Victor's way of working
Victor offers a number of evidence-based therapeutic approaches including: Cognitive-Behaviour Therapy (CBT), Mindfulness Based Therapy, Sensory Motor Psychotherapy, Eye Movement Desensitisation and Reprocessing (EMDR), and Cognitive Behaviour Analysis System of Psychotherapy. He will tailor his approach to fit with each individual's needs and preferences. Victor also offers family Therapy and Couples / Relationship Counselling.
Victor provides clinical supervision at expert level to health professionals in the field.
Victor works in a collaborative and client-centred way. He believes in developing a strong therapeutic relationship with clients, which he believes is the key to successful therapy. This underpins Victor's approach regardless of the type of therapy being used. He also uses handouts, charts, diagrams, etc to support therapy where he feels this would be helpful.
Victor's background
Victor has worked in the field for over 30 years. He initially trained as a Mental Health Nurse and a Cognitive Behaviour Psychotherapist (Masters level). He worked as a Senior Adult Psychotherapist within the NHS as well as managing the service for many years. He has been an external consultant to other NHS Trusts in the area of developing psychological therapies. In addition, Victor has taught and supervised trainees in psychological therapies at Scottish universities for over 20 years and has represented his NHS organisation at Scottish Government on a number of occasions.


Victor's fee
Victor charges £95 (concessions available) per session for self-funded clients. He also works with clients referred via their employer/organisation – for further details, please visit First Psychology Assistance.